Travel
Do you like travelling?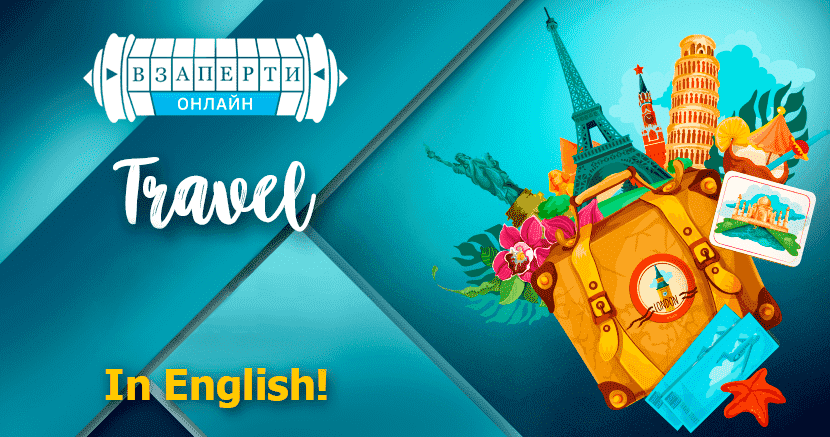 Willing to travel more? It's high time! Find your guidebooks, revise the names of countries and cities and the last but not the least, make sure you know English well! It will come in handy.
🚩 Start: anytime!
RETRO GAME
Repeat March 27, 2019
🚩 Start: anytime!
💰 Cost: 300 UAH.
👻 The game is unrated.
---
There is only one league in the game — OPEN.
Our partners and employees play in the «Locked/Vzaperti» league.
Still have questions? Call: +38 093 170 1445.
---
QUESTIONS AND ANSWERS
What is needed for the quest?
You can use a smartphone or a laptop play the game. We recommend using a laptop or a desktop computer with a mouse for more convenience. To get access to the quest, register following the link and submit an application, and be online by the beginning.
How long will the quest take?
It takes about 1-3 hours to complete.
How many people can be in a team?
There can be any number of people in a team, invite everyone! If the game in a large company is too simple, we recommend splitting into several teams and compete among yourselves the next time. It is possible to play alone.
How to communicate with the team during the quest?
The most fun thing is to get together in a café or at home and solve tasks, sharing thoughts in real life with each other. But if this is not possible, create a chat in any convenient messenger and discuss tasks remotely. Please do not disclose the details of the tasks of the game on open resources - in social media websites, blogs, forums, etc. But after the game, on the contrary, discuss as much as possible 🙂
What is the format of the quest?
The game has 15 tasks. Each of them has a few hints. The first is revealed a few minutes after reading the assignment, then the second. If the task is not solved during the allotted time, the team will be automatically transitioned to the next task. Auto-transition is penalized with 1 minute, so it is better to have time to solve the task before it.
And if I'm slier than everyone?
The organizers constantly monitor cheating during the game and punish unscrupulous teams at their discretion. Do not try to trick the system;)
---
Let's go!
Submitted applications (5):
Elen, BU Ladies, strooks, апроп, Team B
Accepted applications (63):
Open:
Kalsarikannit, GSA_Team #3, Алкаши, University, Неплохо так, Rake of Fate, С зубочисткой на слона, Krambambulya, Вареники Амстердама, Антананариву, Нук, ESCAPERS, FunFun, miranda, Аксолотль, зайка стала безумно самостоятельной, Шалена марка з кораблем, Team spirit, Гурт Гриби, ytkachenko@gmail.com, Questанутые, Alpha, GSA_Team #1, Five, Ирен Адлер, BeetleJuice, LaoKun, QUESTОГОЛИКИ, Avocatos, Surmonter_son_ignorance, Одна дома, Олександрівка, TechSupport, Кі, Всем ПИ здесь!, Los Maine Coones, Но пасаран, Пес Лейтенанта Коломбо, Саманта, Нарешті діти сплять, Международный девичник, В коцику на моцику, Hollywoodland, Astounding People, Lyutovolki, Так говорил Аспарагус, KhKh, Мягкие коалы, Ooo, GSA_Team #2, Джеронимо, Кунилингвисты, OkroshkA, Авокадо Кедавра, Двое в лодке не считая собаки
Locked:
Creazy Family, Отвага и слабоумие, Пиу-Виу, Волк не тот, кто тигр, Ковен за правом народження, Боевые хомячки, ShuTeam, Я скучаю за котятами